"Working with Angharad at the Lichfield Garrick Community Choir has been such a pleasure and privilege.  Angharad is so immensely talented musically and obviously has a vast experience of being an MD for many shows both in the UK and overseas, as well as teaching which she is fantastic at.  To have her teach us was just an amazing experience; I learnt so much.  She is patient, funny, achieves miracles in a short timescale and has a brilliant way with both young and old alike, keeping everyone in line in a very natural way.  The choir won't be the same without her." Rachel Donaldson-Leigh

"Your voice was very beautiful to listen to this morning ( a real treat)" – Maria O'Brien

"Fantastically talented band, a brilliant vocal performance, wonderful evening had by all, thoroughly enjoyed the style of music played!" – Rebecca Gent, Wedding client 2017.

"Awesome, awesome, awesome! […] Fulfilling two very important requirements of a cabaret, both a Ukulele AND a mash up! It was a win and I loved it and she's Fantastic!" – Jamie Anderson, Cabaret Confidential Compere
Reviews of recent productions:
"Madagascar: The Musical", U.K. Tour, Selladoor Family, directed by Kirk Jameson
"Once Upon a Mattress", Lichfield Garrick Theatre, directed by Emily Summers
"the orchestra, with musical direction by Angharad Sanders, is first class." CITY LIFE MAGAZINE

"I'm new to this musical theatre lark so my comparisons are nil, but I have enjoyed every moment of being led by Angharad. She has an unique ability to create the most amazing of melodies from (seemingly) nowhere! She puts it all together and makes the greatest of sounds. Patient, nurturing and exceedingly talented." Cast member, Philippa Graty

"I was always happy to sing in a chorus (or the shower) where my voice couldn't really be heard, but thanks to Angharad's patience and natural ability to make people feel at ease she instilled the confidence in me to be able to take on a lead role in this years community musical "Once upon a Mattress" and sing a solo.
I'm not sure that she knew how much of a challenge that would be, but she never faltered and worked with me personally to ensure that I was comfortable with the song.  Without her trust in me to deliver, her professionalism and her friendship I would never have been able to take on the role of a lifetime.  For that I will always be truly grateful." Cast member, Julie Roche
"The Dreaming", Lichfield Garrick Theatre, directed by Tim Ford and Craig Sanders

"I had to let you all know what a fantastic production The Dreaming is. I went on opening night and was amazed at the quality of the show. There are definitely some stars in the making. Some of the singing sent shivers down my spine, and not just the solo performances, but the group singing too. One of my favourite moments was the scene with the lantern holders at the end of act one where the singing was positively uplifting." – audience feedback

""The Hired Man" last years community theatre production was excellent, setting standards at a very high bar for this year. However I was not disappointed, while a totally different show, the cast, music, lighting, stage and choreography all seamlessly blended together has produced one belter of a production, mystical, enchanting and at times so funny it brings tears to your eyes. Outstanding and fully deserving of the 4 and 5 star ratings it has been receiving from the entertainment press." – audience feedback

"Went to see the dreaming last night! Was fully entertained! The singing and music was incredible, hats off to Angharad Sanders! The cast was incredible too! Funny and engaging! A must see!" – audience feedback
"Once On This Island", Lichfield Garrick Studio, directed by Angharad Sanders
"The music was perfectly executed as it always is with Angharad Sanders. Such a tight, intimate band of just a piano, and a drummer with a mixture of drums such as bongo's sounded fantastic. The harmonies throughout the show were spot on, so great musical directing from Angharad." – remotegoat.com
"The Hired Man", Lichfield Garrick Theatre, directed by Tim Ford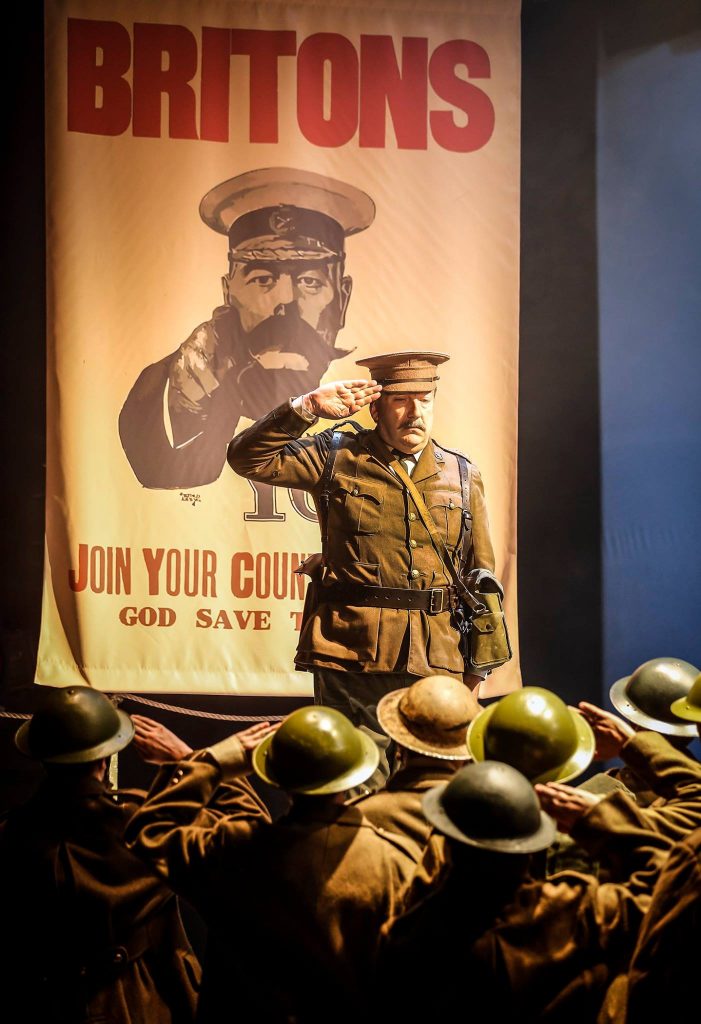 "The full cast choral numbers are quite superb, for which we can thank Musical Director Angharad Sanders who led an onstage eight-piece band" – behindthearras.com, 2nd August 2016
"Curtain Up", Lichfield Garrick Studio, South Staffordshire College
"Angharad Sanders was Queen of the Keys" – Love Midlands Theatre, 26th April 2016
"Steel Pier", European Premiere, Union Theatre, directed by Paul Taylor Mills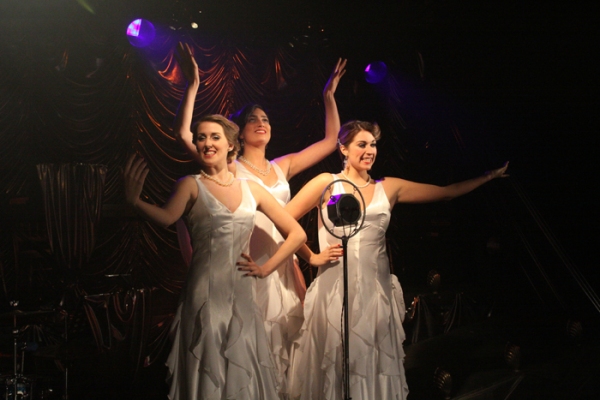 "The band led my [sic] musical director Angharad Sanders on piano and sax, sound magnificent throughout!" – Frontrowdress.com, Wednesday 7th November 2012

"There is a first rate band, the leading players are superb" – William Russel, Reviewsgate.com, Nov 06, 2012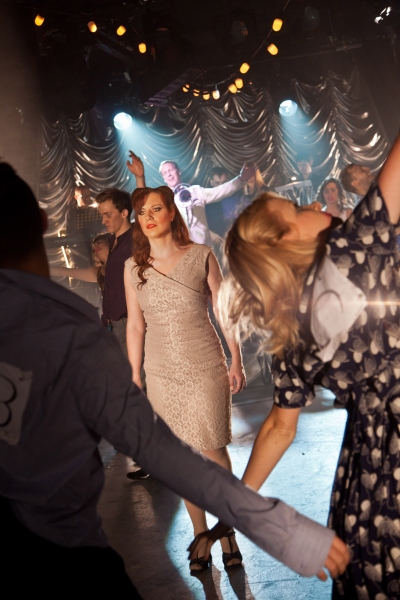 "The band is on stage at the head of the room throughout creating a wonderful aural aesthetic to delight the listener. Kander and Ebb's music is in good hands with Angharad Sanders at the helm." – Mary Ann O'Neill, bargaintheatreland.com, Nov 06, 2012

"The musical numbers save the show though – very catchy, toe tapping and excellently played by a band of five, with multi- talented musical director Angharad Sanders at the helm."  – Joe Crystal,  onestoparts.com, Nov 08, 2012.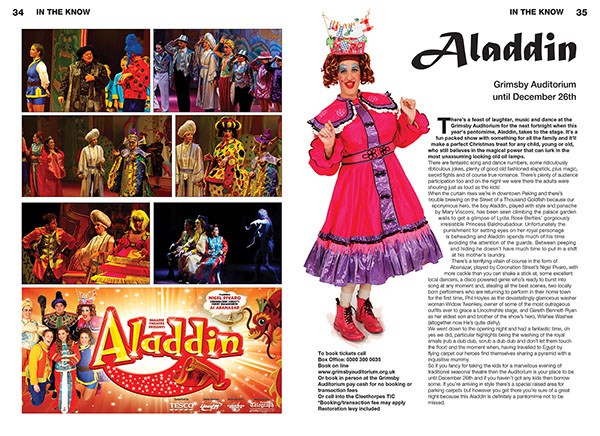 Reviews from creative team members:
"Speaking as a director lucky enough to work with Angharad, and as a music director myself, she is everything you'd ever want in an MD. She blends a HUGE work ethic with amazing talent, dedication and affability. She is quintessentially what anyone working in musical theatre would want from a collaborator, creator and friend. I highly and enthusiastically recommend Angharad for any project." – Tom Berger, Artistic Director, (re:)Directions Theatre Company, Director of the premiere production of "Band Geeks"

"Angharad understands the craft of singing and utilizes her knowledge to pull the best out of those under her direction. Anyone who is lucky enough to work with her will gain a better understanding of their voice and deliver a better performance." – Daniel Bonnett, Director, "Children Of Eden", Stagedoor Manor, New York.